Written by Laurie Perez
I bet anyone who is a "Carpenters" fan will remember exactly where they were and what they were doing when Karen passed. I was living in Orange County California at the time and working as a barber in Villa Park. It was a Friday morning and I was listening to the radio when they announced Karen had passed. I was in total shock, but still didn't believe it at all. When I heard there would be a viewing the following Monday, my girlfriend and I drove, in a blue 1972 Camaro, to Forest Lawn in Cypress. It was a slightly rainy day and we listened to Carpenters on our trip to the cemetery. When we got there, we were the only ones there at the time. They had Karen off to the side in a separate area. The casket was beautiful. It was a beautiful cream color and there was a shear veil over the open casket. When I looked at her I did not recognize her at first. Her hair was backcombed with a flip and she was wearing her going away dress from her wedding, short sleeve and pink. She had her wedding ring on and she looked beautiful to me. When I saw her distinct smile at the corner of her lips, that is when I recognized her and totally fell apart. When I started to cry, I could hear Richard and his Mom and Dad sob in the back room.
The next day at the funeral there were at least 1,000 people there. Unfortunately, my friend and I could not get into the main part of the church. But we sat in the room adjacent to it. The were about 200 people in the room with us. We weren't able to see anything but they had speakers set up so we were able to hear the entire service. I remember the Pastor speaking and Dennis Heath singing Ave Maria and everyone crying. After the services, my friend and I went to McDonalds to get something to eat and as we sat there the funeral car procession and friends passed through the street on the way to the cemetery.
For many years, when I lived in Anaheim, which was only 20 minutes away from the cemetery, I would stop by and leave flowers and a card to Karen and family. I have in my possession at least 20-30 thank you cards from the Carpenter family, thanking me for my kind thoughts and sympathy.
*** Note from Karen Carpenter Magazine! Laurie Perez is a singer who has recently recorded an album with some Carpenters songs as well as some songs from the 40's, 50's and 60's. She is currently in the process of marketing her music for release.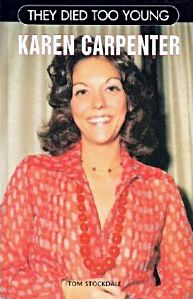 They Died Too Young: Karen Carpenter (book) CLICK HERE
Click to see visit the album "Karen Carpenter"
* * *