In my journeys through the internet I have found many interesting topics on Karen Carpenter. One that I found especially intriguing was about a star, yes an actual star in the galaxy, that was purchased and named in honor of Karen Carpenter. At first I thought that was really amazing, but as I thought about it, I thought it seemed a bit strange. So, I decided to research this and look a little deeper into it.
One website on the internet has listed the star and a picture of the certificate as being purchased by Richard Carpenter. This was the first thing I researched. I emailed quite a few people who emailed some of their friends. I really wasn't getting anywhere with this. I kept researching it and I did however discover who actually purchased this star for Karen Carpenter. It was purchased by Laura Adam, a dedicated fan who has made a presence on the internet by contributing to several Carpenters/Karen Carpenter websites. She was also an original Newville fan.
Discovering who the real purchaser was only the beginning. I continued my curiosity in this star. Is this star truly a real star accepted by our scientific organization or is it a hoax? I kept on with my research and made a few discoveries which changes the status of the legitimacy of this star.
The star was purchased from a company named The International Star Registry (ISR), the name sounds legit. As a matter of fact the ISR has sold over 1 million stars at $54.00 each. Each star is accompanied with a parchment certificate, a chart with the newly named star circled in red and is named in their annually published "Your Place In The Cosmos" book with it's telescopic location.
The only problem is, The International Star Registry doesn't have a license to name stars. Robert Naeye, editor of Mercury Magazine, a publication of the Astronomical Society of the Pacific, has stated "The star names sold by the International Star Registry are not recognized by any professional astronomical organization."
The ISR attempts to give their star naming business a sense of legitimacy by stating each star will be published in their copyrighted book which they call "Your Place in the Cosmos". So, it has to be real if it's in a copyrighted book doesn't it? Not really, it's pretty easy to get a book copyrighted, a copyright can be attained for one's grocery list. All you have to do is pay the copyright fees and you have a copyrighted book. Anyhow, it does give the ISR an opportunity to make another $44.95 on the stars it names. That's how much they charge for their copyrighted book.
Robert Roy Britt, the senior science writer for Space.com called the International Star Registry to enquire about having a star named for his son. Britt asked the ISR associate if the star would be recognized by some official body. Here response was, "no, it's just a novelty gift".
The truth is The International Star Registry is a "for entertainment only" business which makes millions of dollars selling names to stars they do not have a right to name. Karen Carpenter's star may be out there, but in the history of facts it is not recognized by any legitimate scientific or governmental organizations except for Karen Carpenter's millions of fans who regard her as one of this earth brightest shining stars.
Here are the links to some of the website's I visited in my research:
http://www.iau.org/public/buying_star_names/
http://www.efn.org/~jcc/starfaq.html#two
http://www.space.com/spacewatch/mystery_monday_030915.html
http://www.wired.com/techbiz/media/news/2001/12/49345
Below is a picture of the certificate that came with Karen's Star:
This star was purchased and named on February 4, 1997 by Laura Adam. This was the 14th anniversary of Karen's passing.
The print reads: In witness whereof we hereunto set our hands and affix the seal of the International Star Registry this 4th day of February 1997. Know ye herewith that the International Star Registry doth hereby recognize Star Number Andromeda Ra Oh42m 57sd 36 35 to the name Karen Anne Carpenter.
Know ye further that this star will hereforth be known by this name. This name is permanently filed in The Registry's vault in Switzerland and recorded in a book which will be registered in the copyright office of the United States of America.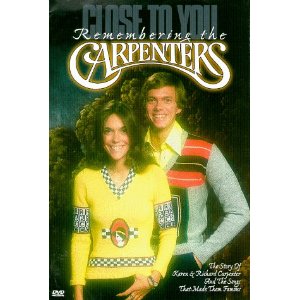 Click Here: Close To You: Remembering The Carpenters (1997)
* * *